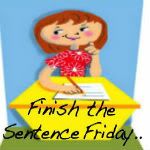 This week's sentence is "If I could go back and do something over it would be…" 
Wow, so many things come to mind, but so does the fact that if I change ONE thing then everything would be effected and my life could be so different.
So Instead of changing anything, I'd like to go back and witness special moments when Dinosaur was younger. I'd like to watch when I first got to hold my son and then bring him home. I'd like to watch him smiling and laughing. I'd like to watch the moments when he tried to "bite" my hands as I changed his diapers my little snapping turtle. The moments when he rolled over, sat up, and crawled. The moments when he copied my facial expressions and sounds. The moments when he first said mommy and daddy and I love you. The moments when he started eating on his own and no longer wanted the bottle. The moments when he would sit in my arms, holding onto me and I would rock him endlessly.
Even though Dinosaur is only four, so many beautiful moments have become memories. I know all too well that soon he will be elementary school then middle school running off with his friends these moments will be memories too. It's so bittersweet to watch your child grow and remember the baby he once was and the man he will become.
My mother gave me this beautiful trinket box. The company is

Willow Tree

and they make such beautiful figurines. Writing this post reminded me of the two I have, courtesy of my mom. This one is a mom and son, unfortunately I didn't see it on their site, but check them out anyway.
And next week's sentence to finish: "In Church I learned to…"
Related Posts via Categories