linking up with

Yup changing my Sunday format again…think it's best just to do a roundup and silly photos on Sundays. It's going to get hectic with September approaching. I think doing silly photos and a round up will still allow me time to post on Sundays but not be too overwhelming. 

Dino dressed me up and had me take a pic of us…he thought I looked good.
This is what I deal with whenever I use the bathroom
Dinosaur dancing in undies with a bucket on his head…in our house that IS normal.
Balboa liking his lips for more peanut butter in his chew chew (bone).
Balboa standing in front of the camera, demanding both treats and butt rubs, but refusing
to look at me.
AWARD
What a boobtastic, boobawsome, booaliscious award, right? Boobies rule! They give nourishment and look great. I was never able to breast feed, but irks me when moms who do get grief for doing it in public. A woman can walk around, her boobs almost falling out, nipples almost showing, or headlights on full blast and that is not only hot, but okay. But when a mom feeds her baby, the way nature intended, it's the most disgusting and embarrassing thing?
Seriously people…GET A GRIP.

Anyway this awesome award was given to me by Janine from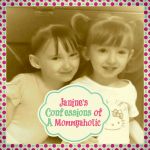 Of course I feel like a boob, because I didn't see it until now…yup…my brain is mushed up. For this award you must thank the person who nominated you…THANK YOU JANINE FOR MY AWESOME GOLDEN SIDEBOOB AWARD! The second thing is to nominate another person who will appreciate getting the award…well…who would love getting boobies…hmmm. I wish I could nominate all of you…but that would be a long list. So I am nominating…
Karen from Baking in a Tornado
WEEKLY ROUNDUP
  On Monday I participated in Listicles: 10 Ridiculous Things I Saw Online. NEXT MONDAY Both Hubby and I are listing our 10 Favorite Meals. Do you think they'll be similar?
   On Tuesday I posted another one of my meals-Italian Bread Pizza. NEXT TUESDAY I'll post about another meal…Who hated it? Who loved it? Who only ate the sausage?
  On Wednesday I posted pics of Dinosaur being silly. NEXT WEDNESDAY I'll post pics of Dino playing with his toys in his closet.
  On Thursday I posted my first blog hop – Let's Get Organized…NEXT THURSDAY I'll have a guest host and talk about organizing fridges and blog posts. How do you organize either one or both?

   On Friday I participated in Finish the Sentence Friday. NEXT FRIDAY I'll finish the sentence "I wasn't really myself when I…"
    On Saturday I posted Dinosaur's Story of dinosaurs everywhere. NEXT SATURDAY Dinosaur will talk about our walk over the Hudson River and how I freaked out a few times.
Related Posts via Categories