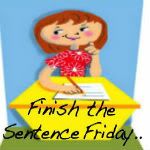 This week's sentence is "I wasn't myself when I…"
I wasn't myself when I...had Dino. I had undiagnosed preeclampsia and had an emergency c-section at 35 weeks.  I had to be let into a secured and locked room just to hold my son for a half an hour at a time. I had to watch other moms all around me get to hold, see, feed, and love their babies whenever they wanted. I had to leave the hospital without my newborn and drive everyday just to see him. I had listen to other people tell me stories and unsolicited advice on how to relax and just feel better. I had to have people look at me like I was suffering from depression when I was just upset that I couldn't take my newborn son home. I had to go through two months of breast infections until I just gave up and chose formula and left go of the guilt.
I wasn't myself when I…When I was laid off for budget cuts and couldn't find another teaching job. Why pay an experienced, highly qualified and certified reading specialist when you can hire a new teacher and pay them much less? I had to watch as our money slowly slipped away and our condo that we owned for ten years was no longer ours. I had pack up and move to an apartment and let go of dreams that I thought would be easily attainable, but no longer.
What did I learn form all this? I learned to trust my gut even when everyone is telling you it's nothing or you should do this and that. I learned to trust in my instincts as a mom and know what I was doing with my son was the best for both of us. I stopped worrying and wishing and started focusing on what beautiful joys and blessings I have. 
I'm a mom! I'm a mom of a thriving, wild, intelligent, sweet, caring, happy, healthy, and energetic boy.  We are living in place with a backyard for Balboa and Anthony to play. A place where Dino can ride his bike, make chalk creations on the driveway, and play in a little pool. We have a garage and basement for storage and can grill whenever we choose.
My dreams and wishes have come true…just a bit differently. I am stronger and wiser. I am happier knowing that God is there, watching us and guiding us. Sure the roads are not easy, but the rewards are wonderful. I am happy where I am now. I am happy with what I have and appreciate what I have.
over at
Do you think we both liked it? Does Dino jump on HIS bed? How about mommy?
Well go THERE to find the answer.
Related Posts via Categories