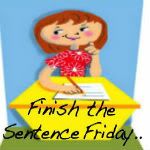 This week's sentence is "My best summertime memory this year was…"
I recently posted my ten favorite things this summer for Listicles, you can read that here.
While I had a wonderful summer and enjoyed the time I spent with my family, but I am looking forward to the fall.
The COOLER weather…
the deep, rich colors of fall
the scrumptious smells of fall
the satisfying foods of fall
the fun and blessed holidays
paychecks and money
Sorry this was a shorter post…It's been a busy week back at work. I am trying to stay on top of it all. I love it though, I am happy to be working and look forward to a great year. I have lots planned for this year, tons of "to do" lists and "must buy" list. Holidays to be celebrated and memories to be made.

Related Posts via Categories