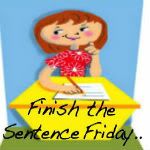 This week's sentence is "Once, in public, I saw somebody..."
… run over shopping cart. I was with my sister, Janet, many years ago on our way to the Christmas Tree Shops. She was driving and we were waiting for a car turn down a row, so we could park. The old lady in front of us wasn't too great of a great driver and almost hit a few cars. Then while backing up for the third time knocked over an empty shopping cart  NO JOKE. She rammed it and pulled it along with her car for a few seconds then sped off leaving the shopping cart in the middle of aisle. At first we just sat there in shock, then we burst into roars of laughter. I am no sure how my sister even was able to move her car. Did the old gal know what she did and left with embarrassment? Or did she think she hit a person and drove off?  Hands down it was one of the funniest things I ever witnessed.
… Hubby and I witnessed a woman in an expensive car pull up to get gas. She got out and realized her gas tank was on the other side. She moved her car around only to be back in the same position…we laughed to ourselves. Then she maneuvered her car TWO MORE TIMES…and kept getting in the same position. She would literally back her car up…turn around.. and pull up the same way?????? After the fourth time we were laughing so hard, I don't know how hubby drove off.
Though I wonder what people have seen me do and say "What is wrong with this chick? Just the fact that I talk, sob, laugh aloud, and shout like a mad women when I listen to my audio books in the car makes me a wackadooo.
Related Posts via Categories