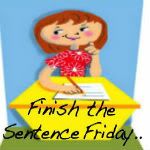 This week's sentence is "The best part of my day is…"
could it be when I'm driving in my car listing to my books on tape…as I have said before I rather listen to books than music…yes I'm a geek and I love it. I so love getting lost in a story, feeling as if I am one of the characters, part of their world…when I ends it's a tragedy…until the next story. The BEST pat is actually enjoying community to work…it's over before you realize it.

~~~*~~~
*~~~*~~~*~~~*~~~*
could it be picking up Dino from daycare…the look on his face as he runs to me…nothing better than that. "MOMMY!" fills my ears as he runs to me and jumps into my arms. Having my son in my arms after a long day is a blessing each time.
~~~*~~~
*~~~*~~~*~~~*~~~*
could it be when Dino wakes up in the morning…the smile and hug for his mommy is better than any amount of money on earth. A Dino hug and kiss is just what I need to start the day.

~~~*~~~
*~~~*~~~*~~~*~~~*
could it be when I finally get Dino to sleep, Balboa out for the last time at night, made all the lunches, got the clothes ready for the next day, and washed my hair…I can then FINALLY settle into my bed and drift off to sleep.
~~~*~~~
*~~~*~~~*~~~*~~~*
Though I would have to say the best NEW part of my day is when I get home and have time to walk before picking up Dino. That time for myself, to unwind and exercise is golden. I never thought I had time in the morning, and I don't…but the afternoon works perfectly. I am hoping this exercise will give me afternoon energy, help me sleep better at night, get in shape, and feel better.
What's the best part of your day?  
Related Posts via Categories