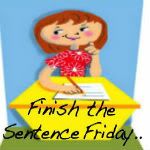 This week's sentence is "One of my favorite childhood memories is…"
bagels every Sunday. Every Sunday my dad would go out and get the papers, bagels, and rolls. It was our family tradition to sit around, read the paper, dunk our bagels/rolls in coffee. Hey don't knock it…it's beyond yummy and the coffee afterwards is divine. Whenever I do this it always brings me back to being at home, when times were simple and there were no worries in my world.

Now there are no photos of that…but my father found a BUNCH of old photos that really blew my mind. Wow…time flies way too fast.
Now I look at my son…WOW…I am where my parents were thirty years ago. Boy how time flies and lives change. It seems like only yesterday I was a little girl playing with my toys…now I have a child of my own. One day he will look back at pictures of himself as a young child…and what will I feel? What will I think? What do my parents feel right now?
do you see my horrible hair-fro…if only I could go back in time with my hair products…sighs. I'm guessing this is Christmas morning or close to it.
look at my hipster parents…LOL.
Me with both set of Grandparents…
My dad's parents Grandpa Freddy and Grandma Angie
My mom's parents Grandpa Tommy and Grandma Betty
Is that a dog sitting between us?
Enjoying a vacation with my dad…
I see my son's silly smile in my face…wow.
Related Posts via Categories