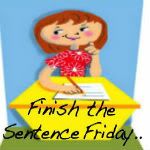 This week's sentence is "If I had a million dollars…" I would
pay off all our debt…it would be nice to not have to worry about car payments, medicals bills, student loans, and credit cards. Imagine paying ahead on all insurances and utilities.

buy a small house in our town and by BUY, I mean own it outright. I would pay it in full and never have to worry about a mortgage payment again. Now I am sure you are asking what do I mean by a small house. Well, I mean a three bedroom, one and half bathroom, small garage, basement, driveway, and a yard. I'm not asking for too much, am I?

add money to my son's college fund. This is a must!!!! I am saving now and add anything I can to his account. I am sure by the time he goes to college one semester will cost more than a car loan.

AND YES…I would keep working, all the money I make would be added to our savings, vacations, and retirement funds.
Now if I had TWO million dollars I would give the rest to my family

Related Posts via Categories