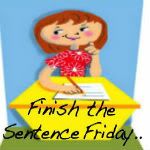 This week's sentence is "We can either be traditional or non-traditional in the way we do things, I…CHOOSE TO TAKE A STAND."

So this post is a bit off topic…but here goes.
About six years ago I was told by a former co-worker that I would indeed dye my hair when I saw grays. She insisted upon this after I said I have not dyed, highlighted, or straightened my hair since I was in my late twenties and I never will again. Why? I finally loved myself and was/am happy with who I am. I don't want to spend money on things that won't make me happy.

It took me a long time, but I love my thick, unruly, curly, hair…and now with a few grays. I have always said and agree that gray hair is sexy.
There was another former co-worker who let her grays come in and owned it. She wasn't beautiful because of her grays…she was just beautiful, she felt it and owned it. She walked around with CONFIDENCE and others felt it and reacted to her accordingly…Confidence goes a long way! 
I have always believed and still do that even the skinny, almost naked supermodel and actress still stand in front of the mirror and critique on their bodies…maybe even more than the average lady. I know I am not perfect, I love all my imperfections and flaws, they make me who I am. 
My son will grow up knowing that real beauty comes from within…not hiding under makeup, fancy clothes, or expensive hair. It comes from who we are…the rest just enhances our beauty. He will find a women who doesn't need to be validated by him or expect her to look a certain way. He will love her for who she is, and her for who he is.
So back to my gray hair, I embrace it and squeal with delight when I find another one. I love it and know I am going to rock it!
We hear about how men age gracefully and women don't. STOP SAYING THIS WOMEN…YOU ARE JUST GIVING SOCIETY MORE POWER OVER YOU…PUSHING YOURSELVES BACK TO A TIME WHEN WOMEN WERE EXPECTED TO BE SEEN AND NOT HEARD.
First of all society is to blame…we want women to be natural but then attack a woman when she feels and acts sexy. We want women to be sexy but call them wh*res and sl*ts when they act that way. Do men have the same harsh criticism? NOPE. 
If we want to age gracefully we have to believe that we are beautiful…not "because of" or "in spite of"…we are beautiful and that is that. Accept who we are, love who we are and everyone else will. Who cares what society wants, who cares what others think. You are YOU. Your body is YOURS…live, love, laugh. You are beautiful. That is what we need to tell our children…SHOW our children.
Come one everyone just say it… "I AM BEAUTIFUL" no ifs, buts, excuses, explanations, footnotes, prepositions….just
"I AM BEAUTIFUL"
Do you feel the power? Say it every morning, noon, and night, say it when you walk in a room,when you get out of the car.
Am I saying that you are more beautiful or better than others? NOPE…we are all beautiful, but we have to BELIEVE it before anyone else will.
If you don't believe it, how can you expect your children to believe it? Do you want them to grow up feeling less than? Start now…
Take a stand for your children. Take a stand for every women who who believes she needs to go under the knife to be beautiful. Take a stand for every girl who reads a magazine and thinks she will never be that beautiful. Take a stand for every boy who thinks real beauty can only be found on a TV screen. Take a stand for every backwards and ridiculous fashion rule out there. Make your OWN fashion. Take a stand for yourself, love yourself.
TAKE A STAND
I AM BEAUTIFUL
Related Posts via Categories