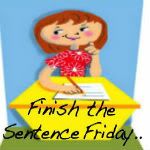 This week's sentence is "My best dream ever was…"

OMG, well I have had some beyond awesome dreams that I really can't share. Though my friends Kit and Cathy know EXACTLY what I am talking about.
Since I can't talk about those dreams, have had dreams I just don't remember, and have quite a few horrific nightmares…I decided to talk about my vision board. 
What is a vision board? Well it is a place to visualize all your dreams, inspirations, hopes, and future goals. It is a place to talk about them, wish about them, envision them. If you live in the positive and believe it will happen, it WILL happen. it may not happen the exact way you wanted or when you want, but it Will happen the way that is best for you. 

In the past my vision board held pictures of motherhood, a home with a yard, teaching job, being healthy and happy. Now while things have not worked how I wanted, they DID happen the best way for me. I am a mom, we rent a house with a yard, I still have a job, I may not be  skinny model but I do feel good and love myself.
So what's on my vision board now…well check it out.
I will keep teaching

We will live in a house with a yard

I will find time to exercise

I will find ways to cook even healthier foods

I will continue to crochet and sell my projects on Etsy

I will continue to be happy and enjoy life and each moment

We will find extra money

We will put money in savings

We will be surrounded by babies. No, I do not want another baby, I have come to terms with Dino being an only. But…I WILL be SURROUNDED by babies and HAVE them in my life.

We will grow old together and enjoy life

We will proudly watch Dino graduate college and be a true success

Dino will be a great dad
What are your dreams?
Related Posts via Categories