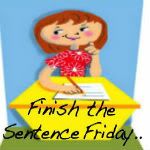 This week's sentence is "I was found guilty…"
of taking "ME" time.
Since I pay the full time price at daycare, I might as well send him when I am home. I mean…Am I really going to pay for him to be home with me? I know some moms look down on that or think I am a terrible mother. I know childless people think I am selfish. How could I NOT want to spend time with my son? Do I have to spend EVERY single minute with my son to be a good mom?
I will tell you I am a better mom for it. He wants to be in school and I want him to be in school. I love him to the moon and back, but we both do better with him in school. We live in a tiny apt, so he needs to GET OUT and move around. We love each other…but space is tight and it drives us mad.
I need my time, I work full time and even though I do enjoy the alone time when I drive and listen to books on tape…it's not the the same thing as being home and relaxing. Even if I want to shop, get my nails done, watch TV, or sit on my butt and blog I can do that GUILT FREE!
I'm still an awesome mom. My son thinks I rock and his opinion is the only one that really matters. 
Other moms are the worst critics of moms…we need to stick together not gossip and tear each other apart. If all moms stood by each other imagine how strong a front we would make. Imagine what we would be teaching our kids? Imagine the power we would have as women. 
I LOVE working, I love using my skills…even if I was a millionaire, I would still be out of the house keeping busy and working…that is just who I am.  NO guilt. 
Full Time Working Moms
Part Time Working Moms
Stay at Home Moms
Work at Home Moms
we are all Moms…and we all need to stick together…
The women before us and those before them worked too hard to get us the right to do what we want as moms…to then turn on each other is a true slap in their faces.
Have you been found guilty of something?
Related Posts via Categories