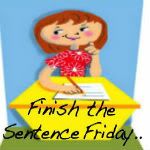 This week's sentence is "One of  hidden talents is…"
I just couldn't think, so I asked Hubby what he though my hidden talent was…he responded with "You have a consistent effort to be thrifty in all facets." While I think there are MANY others who are far more frugal than me…I DO NOT stop until a company rights their wrongs when it comes to my money. I cry with delight as I add on the coupons to an order. I love when we eat every bit of leftovers, who wants to waste money on food. 
If you are not sure what the difference between frugal/thrifty and cheap…these are definitions of the words.
I am happy to be frugal and thrifty, but cheap is just wrong. Cheap, to me, means you are not concerned about quality and health. Frugal and thrifty means that I will do my best to save money while maintaining quality and health. What do you think? 
I use Peapod Pickup because I just don't have time to go shopping. Sure I could save even more if ran to various stores, but I just don't have the time to do that now. Perhaps over the summer when I am off I will do that and stockpile things that I might need for later in the year. In the meantime, I collect coupons, and set up a spreadsheet with Peapod. I have the order number/date, total amount, copy of all coupons, total coupons, and date coupons were refunded for matching order number.  If push comes to shove I can make a dinner for just four dollars and have leftovers. 
I found THIS great site for contacting companies and possibly getting coupons. Instead of looking up each and every company, it's all right here for you! I contacted most of them and complimented the hell out of them. Most are sending me coupons, others were appreciative of the compliments. 
What other frugal things do I do?
~~~ I save freezer bags (just ones that I used for frozen veggies, pancakes, and waffles). I keep them in the freezer, and keep using them until they rip or tear.
~~~ I cut up old/stained clothes for rags and cleaning rags. I have big sizes for cleaning up messes and small ones for washing dishes. Heck I even use them as tissues and napkins then just throw them in the wash. 

~~~ I take large bags of snacks and sort them into smaller bags. This makes it easier for not only packing lunches, but making sure the snacks don't get eaten all in one setting.
~~~ I like to buy sliced Italian bread when it's on sale and used it to make French Toast. It's thicker so it makes for a better french toast.I section it into bags of two and three slices and freeze them. I also do this with pancakes and waffles.
~~~Okay…I am addicted to seltzer. I buy the pack of bottles and cans and use them during the week at work. It's much cheaper than buying water from gas stations or vending machines. I know I could save even more by using a filter and drinking water from home, but I feel like the girl in the movie Signs. I swear I can see things in the water and need a slight flavor. Therefore, seltzer is healthier because it feels like soda, but with no sugar or carbs it's better for you. Plus, I am getting that water in my body. I did all the research and carbonation doesn't cause tooth decay or cavities, it's the sugar in soda that does that.  
~~~I just realized how to use Groupon and Restaurant.com and similar sites. If we do eat out we'll be able to save money from now on. 
~~~Insisted that we drop cable and watch TV and movies on Netflix, Amazon Prime, and Hulu Plus…with all three we are still paying less than we have with either Comcast or AT&T.
~~~Plan a bi-weekly budget and account for every single penny.
~~~Plan weekly meals and make sure to check food cabinet before ordering more of the same things.
~~~Eating less meat…having a few meatless meals saves on groceries and is healthier. I think I'm going to up it to three times a week. 
Dino overheard us talking and said my talent was that I am cute, awesome, and beautiful. After that comment I'm pretty happy. 
 What little frugal/thrifty things do you do in your home? 
Related Posts via Categories