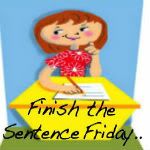 This week's sentence is "What I really want to scream out loud is…"
YOU ARE BEAUTIFUL
If you have read my FTSF post from a from late January, I love that I have grays in my hair, I am who I am and love myself. You can read that here. 
I do love makeup, when I go out I do where makeup, most of the time. I wear eye shadow, eye liner and maybe even mascara to play up my eyes, maybe a bit of blush, some lip gloss and spray it on with a makeup sealer so it won't run.
I don't use concealer or foundation, first off it does more harm than good to my face and secondly I refuse to cover up my skin. So what if I have blemishes, spots, wrinkles. So what if I look my age, I am 38 years old, I don't want to look younger, I want to look healthy. I am happy with who I am.
I am disappointed my grays, freckles, beauty marks and wrinkles did not come out in the photos…but here I am without eye makeup or blush. 
I have said before and will say again, I want my son to know that real beauty comes from within. I want him to find the person that is happy with herself rather than need him to make her happy. I want him to know that beauty can't be applied to the face after a morning shower. I want him to know that love is NOT skin deep. Heck it's not even a color, size, shape, or brand.
You don't need to give yourself away to be loved. You don't need to show off more than you want to in order to be loved. 
I want to hear every girl and woman, every mother and daughter proudly say "I am beautiful" and mean it. As mothers we not only have to say it, we have to believe it.
If you walk around criticizing your body, face, weight, hair, thighs, eyes, lips, etc…then you are also criticizing your children's' bodies. You are teaching them they must grow up to critique themselves because they do not know what self-confidence is.
Don't get me wrong, healthy eating, exercising, and wanting to look your best are important. But don't put yourself down, you owe your children better. You owe yourself better. 
So say it with me. "I am beautiful. I am important. I love my myself." 
Related Posts via Categories