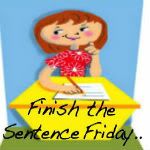 Okay, as I sit here trying to decide what to write I'm stumped.  I mean, I'm 38 years old, I've had some good years that I could write about. Or should I write about some decades before my time that I would have loved to have been a part of?  WARNING…you know this was a last minute post because of the lack of photos! 
After a good twenty minutes of searching for ideas and links to some favorite movies and TV shows I decided that I could NOT stick to one decade.
Seriously, the 70's were pretty darn good, I mean I was born and so was my hubby!
Then, even though I resented her for many years, the 80's DID bring my sister.
Though I hated my time in elementary school, I did graduate in '89, so that made the ending of the 80's perfect.
Even though I was so weird and annoying, I did graduate high school in '93 and start college in '95. Hell I spend the rest of the 1990's in college and started teaching. So that was a pretty awesome decade.  
I continued to teach and earn my Master's in '00 and got married in '01, so that was amazing as well. But then as we tried to become parents that didn't go so well. I Those were some dark years, but at the end of the decade we finally became parents. In '09 we we had our miracle, so what a way to end the decade, right? 
DO YOU SEE WHAT I MEAN? How could I just pick one decade to say was the best. I could say Dino's decade rocked out all the others, but all those years brought us together. So without my childhood, awkward teens, college years and marriage, and infertility I may very well not have had Dino. 
Though, I am looking forward to the current decade. Dino will be starting kindergarten in the fall and leaving the day care he has known since he's been 6 months. I was laid off and now am working again and despite the stinky commute do love what I do. There are so many things to look forward to, so many journeys to take, experiences to discover, and joys to feel I am looking forward to the decades yet to come. I miss my little baby, but can't wait to see the man Dino will become. I know he is going to make the world a better place and I will watch with rapt attention and love. 
"My favorite decades are the ones yet to come." 
Related Posts via Categories