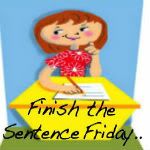 "I'm done with school, but learning never ends" 
I have quite a few degrees and certifications. You didn't know that? Well I don't like to brag, but I am truly proud of all that I have accomplished.
I have an associate's degree, bachelor's degree, and a master's degree. I have three certifications that allow me to work as an elementary school teacher, special education teacher, and a literacy specialist. In addition I am certified in levels 1-6 of a multisensory language instruction program. I started teaching 1999 and have been working in education ever since, except for the one year I was laid off. That is a total of THIRTEEN years as a teacher, TEN of those as reading specialist.
As I sit here typing this I am shocked at how long I have been teaching and how far I have come. WOW! What a career, so many achievements, accomplishments, struggles, changes, successes and failures. I do love what I do and am always learning something new.
I try to take a course or two online every year. This not only keeps me informed and up to date on current procedures in education, but provides me with professional development hours to keep my certifications.
I was once asked if I would go for my doctorate. Nope, not interested, but I would like to earn my certification for levels 7-12 of the multisensory language instruction program.
Outside of education, I would love to
learn Italian
take pottery course
learn Pilates
take cooking classes
 What do you still want to learn? 
Related Posts via Categories