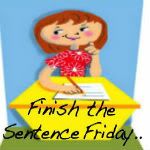 "I went to a concert…" 
Age 14: "I went to a concert and it was embarrassing." 
The first concert I went to was New Kids on the Block. I was supposed to go with a friend from high school, but she got sick and couldn't go. So I was the one with my sister and parents. Can we say embarrassing? I am sure they were so thrilled to be there among all those moronic teenage girls screaming for a boy band they knew would not last the year.Now, I would love to go to a concert with them…funny how perspectives change as you get older.
~*~*~*~*~*~*~*~*~*~*~*~*~*~*
Age 25: "I went to a concert and it was scary." 
Hubby and I were just married and he got tickets to a Jon Bon Jovi concert in New Jersey. We stopped at diner for breakfast and while in the bathroom I almost lost my keys down the toilet. How? It was a typical Karen moment. I stuck my hand in flushing toilet and held on to the key ring with all my might praying to God that he didn't let them flush away. All I was thinking was how I would have to call my dad to get our spares and drive them all the way there. No I did no bring a spare key, don't worry Hubby yelled at me for that one the whole drive to the concert.
Then we met up with his co-worker and a girl the guy invited along. We all met up for In the parking lot we met up for lunch. I could tell right away the guy was a wackadoo. Seriously he was one of those guys who acts all tough, but really looks like an idiot. He kept making comments about a group of guys drinking beers and throwing a football. Hubby was pissed that this guy's mouth could get us all in trouble. The group of guys messed with another group, curses and insults were traded, fists almost thrown, but a few beers were thrown. This moron started bragging how he would have ended the fight and the guys should get thrown out. When an officer came over to take out statement, he suddenly shut his mouth and we all saw him for the fool he really was.  He looked so stupid and even the girl he was with wanted to hide. I got truly scared for a bit thinking the group would come over thinking we all felt the same way as the moron. Thankfully they too realized he was an idiot. 
I was thrilled we would NOT be sitting anywhere near him. I can tell you Hubby would have left if we had to sit next to them.
~*~*~*~*~*~*~*~*~*~*~*~*~*~*
Age 36: "I went to a concert and it was strange." 
I went with my sister to a 100 Monkeys Concert. Most of you know my crush on actor and singer Jackson Rathbone. When he was with the band 100 Monkeys I got to see him in concert, it was awesome. Well except for the fact that I messed up on the time and we had to sit and listen to cover bands and only got to hear a few of their songs before we left. If we didn't make it to the subway by a certain time we could miss the train back home. It was worth it to see him live watch him perform on stage…sighs…I will always remember that.
I will also remember the old lady who climbed onto the side of raised chairs and was screaming for the oldest member of the band. She was drunk (or obsessed) and I swore she was going to flash him her boobs, so embarrassing. The poor security guard was trying to get her down without actually touching her. She almost knocked into me and I was afraid of what I would get from touching her. Finally she was gone and I could carry on with my shameless gawking at Rathbone. 
Have you gone to a concert?
Was it an enjoyable experience or something you'd like to forget? 
Related Posts via Categories