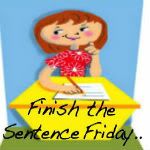 "I have absolutely no interest in…LOTS of things."  
Oh the list of all the things I have no interest in is quite long…where should I start?
I have no interest in reality shows. They are NOT real, they are mostly staged. They hold no interest to me at all. Seriously, do I really want to watch how you WANT the world to see you? NOPE
I have no interest in being someone I'm not. If you don't like me for who I am…then you don't deserve me in your life.
I have no interest in anti-aging gimmicks. I am not covering my grays or my "flaws". I love my big, freckled nose. I love my splotchy cheeks. I love curly, black hair with some grays. I REFUSE to apologize for aging or having skin. Aging is normal.
I have no interest in hiding the emotions on my face.
I have no interest in sports but know I may have to REALLY get into it when Dino gets older. Hubby wishes I was into sports.
I have no interest in NOT reading…I NEED to get caught in a book and suffer from a book hangover until I get caught in another book.

 What thing(s) are you lacking interest? 
Related Posts via Categories