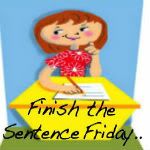 "It's almost bathing suit season, and to prepare, I'm…"
strength

 training and eating healthy
I SO LOVE THIS PROMPT!!!
As you know from my Saturday posts I am getting stronger and healthier and from my Thursday posts I am only eating HEALTHY FOODS, you can find all the posts HERE.
I began with Weight Watchers but soon realized a few things.
I could eat junk and still be within my point range

Most of the food recommend was low-fat, fat-free, and processed

I gained muscle, which in turn adds weight, but lost inches…but was not be succeeding in Weight Watchers
AFTER THOSE REVELATIONS…
I decided to dump the program, continue strength training, and only eat organic and NON-GMO foods. Sure it costs more money to eat organic and NON-GMO, sure it takes extra planning, but knowing we are eating real food is worth it.  I used to NEED to have crystal light in my water or a soda. I would NEVER drink plain water…ever.
NOW…
I only want water, or seltzer when we go out. I drink my tea without any sugar and honey. The taste of artificial sweeteners is sickening.
My exercise routine consists of a 20lb kettle bell at home along with push ups, squats, and lunges. I can do 15 push ups (on my knees) with Dino on my back, I can do 15 regular push ups (sans Dino). I can lift him up and squat 2 sets of 5.
At the gym, I usually climb the stair master, recently climbing 50 floors, that's right 50 floors!!!!!  With a personal trainer I am learning how make my muscles even stronger, by doing dead lifts and squats.  I recently rocked on a treadmill (I normally don't since there isn't big muscle gain while walking), but I raised the incline to 80%…the reason I did so well??? My muscles gave me the endurance to keep going.
It's so empowering being strong and healthy.
I went from a size 1x to a 16

I went from NOT being able to walk up the stairs at work, while carrying my heavy bag, without hyperventilating and needing to sit down. NOW…I can practically run up those stairs with the bags and keep going.

I can run around our driveway and yard with my son and he's the one who needs to take a break first.

I no longer hate water, I actually LOVE the taste of it.

I find that fruits, vegetables, and real food fill me for longer and provide me with the energy I need.

I am beyond delirious with joy when I find another NON-GMO product that Dino loves.

I love cooking from scratching and making healthy meals and treats for my family. Before it was all about cheap and quick, now it's all about health and real food.
sorry about the out of focus pictures, I took them on my own and they don't seem to come out best like that. Despite the fuzziness, you can still see the difference in how I look.
 How are you getting ready for beach season?  
Related Posts via Categories