Welcome to a Secret Subject Swap. This week, 16 brave bloggers picked a secret subject for someone else and were assigned a secret subject to interpret in their own style. Today we are all simultaneously divulging our topics and submitting our posts.
Here are links to all the sites now featuring Secret Subject Swap posts.  Sit back, grab a cup, and check them all out. See you there:
http://www.BakingInATornado.com Baking In A Tornado
http://spatulasonparade.blogspot.com Spatulas on Parade
http://dinoheromommy.com/ Dinosaur Superhero Mommy
http://themomisodes.com The Momisodes
http://berghamchronicles.blogspot.com the Bergham's Life Chronicles
http://www.southernbellecharm.com Southern Belle Charm
http://thethreegerbers.blogspot.ch  Confessions of a part-time working mom
http://thelieberfamily.com The Lieber Family
http://batteredhope.blogspot.com Battered Hope
http://www.someoneelsesgenius.com Someone Else's Genius
http://climaxedtheblog.blogspot.com Climaxed
http://sparklyjenn.blogspot.com/ Sparkly Poetic Weirdo
On your way home from the grocery store, you spy a neatly tucked letter in your windshield wiper. Thinking it was a stupid advertisement you grumble as you get out of your car grab the paper and roughly open it, then you see scrawled in a hand writing you thought you'd never see again, "I'll never forget" and you're left breathless, confused and terrified…   Finish the story.
It was submitted by: http://sparklyjenn.blogspot.com/      
First of all I would NOT take the note of the car. No way, what if it's a trick to grab me or take my car. Especially if I had my son in the car with me, I would drive straight to the police station. I wouldn't even drive home, what if I was being followed so they could see where I live. Maybe I'm paranoid, but it's always better to be safe than sorry.
I had such terrible writer's block. I kept changing what I was writing unable to complete it or make it flow. I had some great ideas, but couldn't make them work.
How about a tear-jerker?
First I started with a letter from Balboa, from Rainbow Bridge. He will be gone a year on August 1st. He wrote to tell me he's meeting new friends, eating all sorts of awesome treats, chasing lots of leaves, and always visits. He asked me to stop crying and remember the good times. He let me know I was always his mommy and we should look to adopt a doggie who never knew love. It's time to share the love he always knew.
A twisted stalker? 
Another scenario was a short, short, short story about a woman hiding from a stalker. He once again found her and delighted in terrorizing her. She tried to get help from the police, but no one believed her. Besides, that note didn't really threaten her. Sadly, this is reality. She goes home to pack and all seems to be going well for a quick and safe escape. As she gets in her car she hears him say "hello" from the back seat.
I know it's twisted and dark, but I was channeling Lisa Unger and Harlan Coben.
A 'DOH' moment 
Then I thought what if it REALLY happened, but it wasn't what I thought it was. I come home freaked out and tell Tony and can't stop from crying thinking that we are being stalked or he royally pissed off someone. Of course not me, I'm the innocent one. He starts to get upset as well, saying the handwriting looks familiar to him. Then he turns it over and throws it at me using his favorite line when I'm not quick on the uptake. "You're the teacher and you don't know?" I look at the back and see that it says. Family Photography, we save all your memories so can say 'I'll Never Forget.'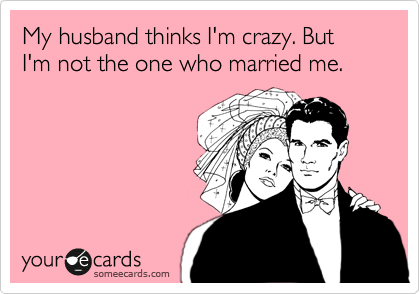 Only good friends really "get" each other. 
The last idea I had was a note that initially freaked me out. That is until I found a few dollar bills inside with another note that said "no backsies". Thankfully it was from my friend, Kit. We sometimes will fight over who will pay or who owes who money. I joke about mailing her money all the time…this time she left it on my car. I text her explaining I thought I had a stalker and we crack ourselves up. Our husbands just stare at us, in our respective houses, shaking their heads and wondering how we function in life.
While each had a great beginning I couldn't make it flow and work for this post. I kept drawing a blank as a wrote. Really stinks when that happens. Which of these did you like? Which did you think was the worst?
Related Posts via Categories