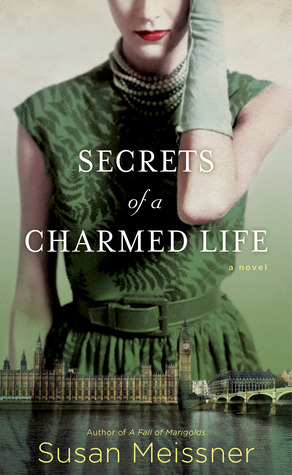 Secrets of a Charmed Life  by Susan Meissner  
Goodreads Summary:
Current day, Oxford, England. Young American scholar Kendra Van Zant, eager to pursue her vision of a perfect life, interviews Isabel McFarland just when the elderly woman is ready to give up secrets about the war that she has kept for decades…beginning with who she really is. What Kendra receives from Isabel is both a gift and a burden–one that will test her convictions and her heart.
1940s, England. As Hitler wages an unprecedented war against London's civilian population, one million children are evacuated to foster homes in the rural countryside. But even as fifteen-year-old Emmy Downtree and her much younger sister Julia find refuge in a charming Cotswold cottage, Emmy's burning ambition to return to the city and apprentice with a fashion designer pits her against Julia's profound need for her sister's presence. Acting at cross purposes just as the Luftwaffe rains down its terrible destruction, the sisters are cruelly separated, and their lives are transformed…
Chapter 14
"Once she was settled with pen and stationery in hand, the difficulty became not finding the privacy to write the letter, but the words to put inside of them. Julia's had to be worded simply and so that she would not panic, and that proved to be the stiffest challenge." 
Initial Thought
Immediately  captivating and pulls you in. You need to know who Isabel really is and why she wants to tell her story. Is she really Emmy or Julia? And what happened to them? Or their mother? In the beginning you find out the origin of the polka dotted umbrellas and you MUST know what the "secrets" are.
Found myself crying at certain parts, truly emotional book. Beautiful historical fiction.
Torn between wanting to slap the crap out of Emmy for being selfish and stupid or hug her for being so brave. 

Related Posts via Categories