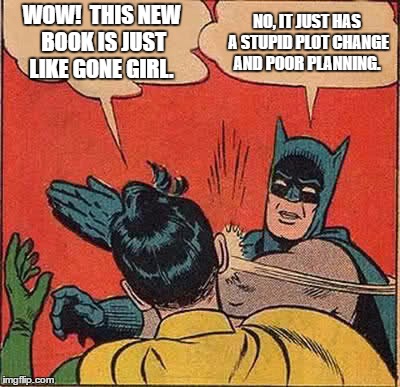 Today's post is a writing challenge. This is how it works: participating bloggers picked 4 – 6 words or short phrases for someone else to craft into a post. All words must be used at least once and all the posts will be unique as each writer has received their own set of words. That's the challenge, here's a fun twist; no one who's participating knows who got their words and in what direction the writer will take them. Until now.
At the end of this post you'll find links to the other blogs featuring this challenge. Check them all out, see what words they got and how they used them.
I'm using:
why ~ best ~ tasteful- ~ enough ~ month
Why???? Why? is every thriller being compared to Gone Girl and Girl on the Train? Why????????
Gone Girl was impressive because of the complete change of the character's way of thinking and her plotting. She planned something and led those in her life to believe one thing then revealed she lied and why she lied. She was devious, twisted, and warped. The author planned the entire book around the character tricking and deceiving others. Girl on the Train was fantastic because a character was tricked by a sociopath. Slowly, with the character, readers begin to realize what is really going on and what is happening. A good thriller is synonymous with terror, blood-curdling fear, and leaves you wondering how you will ever feel safe again.
Shitty thrillers just change the plot or characters voice mid-book without any clues, reason, or thoughtful writing. Making a character suddenly admit to killing someone, lying to others, or stealing something without a reason or plan in the end is not a good thriller; it's terrible writing. ENOUGH of wasting readers time on thrillers that even TRY to compare to Gone Girl.
Which thrillers should you avoid??? Don't read these books unless you prefer a thriller that lets you down or insults your intelligence. Here are some less than exciting thrillers I have read in the last few months.
You're probably thinking who am I to judge what makes a good thriller. Well, I read 4-5 books a month, 263 books thus far and most are thrillers. I've been tricked before by the promise of a great thriller and found impressive and spine-chilling thrillers by word of mouth and searching around.
Books with only 3 stars…and I was being generous.
2 stars and waste of my time
Which thrillers are a must read???? These books got 5 ***** stars and are worth reading…if you dare.
These books are twisted, sick, and gory; nothing tasteful here. Some will make you sick others will leave you shocked to the core. These are the best thrillers I have recently read.
Want to see all the books I've read in all genres? Need a recommendation? Check out my read books from Goodreads HERE.                                                                                                                                      
my read shelf:


          
 Links to the other "Use Your Words" posts: