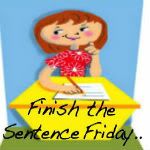 "The Nicest Thing Someone Ever Did for Me…"  
Man, I am sitting here trying to think. I feel awful that I can't remember all the wonderful things that have been done for me…makes me a horrible and evil person, right? Seriously, the only thing on my mind this Thursday afternoon is parent orientation for kindergarten tonight.
That's right, I am writing this on a Thursday.
That's right Tony and I are going tonight to meet the teachers, sign up for classroom screening, and get more information and resources than I think I can handle.
I have so many questions….
Will he be mad if I give him a packed lunch and the other kids buy school food?

Is the school food organic/NON-GMO?

What if he doesn't learn to zip up his own jacket?

What if he doesn't make any friends in the classroom?

What if he is incorrectly placed in a classroom and he needs more challenging work?

What if he's being pushed too hard and feels inferior?

What if he need extra support?

What if he's just too busy with his body and gets picked on by the teachers instead of being taught differently?

Does he need a backpack?

Does he need pencils and paper?

What if doesn't like his new school or teacher?

What if he gets bullied?

What if the moms in the PTA are mean and ostracize me for being a working mom?

What if I am pressured into volunteering when I don't have time?

What if he's ostracized because his mom can't volunteer?

What if he makes friends but I HATE the moms?

What if the kids don't like him and he never has any friends?
See it just goes on and on. Hubby is relaxed…well he's more worried that because he's a custodian at another school in district Dino will get picked on…or have less than others have. As for all these worries he's says I'm crazy.
So, in all this I did not finish the sentence at all. I will say that Dino is able to pick out the sweet and wonderful things people do and will say, "That was so nice.  ______ did that for _________ and that was nice." I hope he is able to use this skill in school to make friends, learn, and be successful. I hope he is able to make friends and be friends with everyone. I hope he continues to use his manners and be respectful of others, but not letting others walk all over him. I hope he stands up for himself with pride and respect. I hope he loves learning and continues to learn and question everything. I hope he starts learning and never stops. I hope school begins his journey of changing the world.
UPDATE
I was hoping they would give us more information tonight, instead they will mail everything to us in August. I am glad hubby picked up summer reading information at his school. I can get started on introducing Dino to reading series and books he will see in school. They didn't have any of that at this school. I guess all the parents will be running around in August fighting over school supplies.
I am looking forward to his mini kindergarten to get to know the teachers and fellow students. I am looking forward to bus orientation so he can feel like a big boy. Hubby is also looking forward to walking Dino to school most mornings.  
It was nice to see some moms that I already knew. Dino will know some friendly faces and hopefully make long lasting friendships. 
 What is the nicest thing someone has done for you?