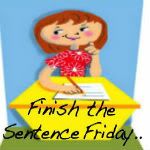 This week's sentence is "My bucket list includes…"
Okay a little game with this post…
Which three did I put in for fun and would NEVER try?
….answer will be revealed next tomorrow, hee hee. 


1. I want to visit Italy with my hubby.
2. Learn how to change a tire.
3. Get a tattoo of Dinosaur's birthday on my shoulder.
4. Learn Italian so that if I ever go to Italy I will understand some of the language.
5. Go sky diving from a plane.
6. Crochet a poncho for myself and all of Dino's hats and fall jackets…at least for a few years.
7. Eat more (not ALL) vegetarian meals and even buy organic foods if I can afford to do so.

8. Go for laser hair removal, you ladies know what I'm talking about right?
9. Travel to every state in the US and get a picture participating/next to what that state is known for.
10. Buy Dino an iPad, that will be all his.
11. Swim with the dolphins.
12. Win the lottery and buy a house with three bedrooms, and eat-in-kitchen, and a pool.
13.Watch Dino graduate with honors from college.

14. Dance with Dino at his wedding….and hold his MANY children…
15. Have Jackson Rathbone serenade me while I get a full-body massage.

16. Learn Karate…that would be cool
17. Learn how to pole dance.
18. Get to my ideal weight and still LOVE to eat.
19. Just once ride on a roller coaster with hubby
20. Run a marathon.
Can you guess which three I would NEVER do?

Next week's sentence is "I have a bad habit of…"